Super Prize Wheel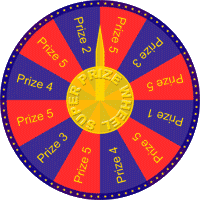 Retailers, supermarkets, stores, malls, trade shows, parties and games are a perfect place to use a prize wheel. With the fun environment it brings to the event, it is a sure way to keep the atmosphere fun and exciting. You can design your own prize wheel with different colors, sectors, rings, circle, texts and pictures.
There are 2 programs in Super Prize Wheel: Wheel Editor and Wheel Player. Design the prize wheel with Wheel Editor, add prize sector to wheel and define the quantity of prize. Use Wheel Player to create prize wheel project with the prize wheel created with Wheel Editor, run the prize wheel project.
Microsoft .NET Framework 4 is required to run Super Prize Wheel, if Microsoft .NET Framework 4 is not available on your computer, the installer will download and install Microsoft. NET Framework 4 automatically, you can also download and install Microsoft .NET Framework 4 from Microsoft before installing Super Prize Wheel.
Features:
There can be up to 100 prizes in a prize wheel.
Both texts and pictures can be added to prize wheel.
Set prize quantity, limit prize quantity to a quota.
Print voucher using default printer, each prize can be set a voucher template.
Enable rotation sound and back music.
Pointer angle in prize wheel is adjustable.
Support to add back picture and back video to prize wheel project.
Export prize wheel to transparent PNG format picture file.
Support to set rotation time and revolutions.
View statistics and detail records.
Support to export statistics and detail records to Excel file, text file and html file.
Password can be set to prize wheel to protect the prize wheel is not modified by someone else.
Command-line tools are available, easy to integrate with third party software.
System Requirements:
Windows XP(SP3)/Vista/7/8/10.
1G RAM or above.
500M disk space or above.

Try Now
The trial version allows you to spun prize wheel 50 times.
Download Trial
User Guide (online)

User Guide (PDF)

Buy Now
Single User License (3 activation codes in lifetime, the activation code is hardware locked).

The upgrade is free for registered users.