Audio Music Editor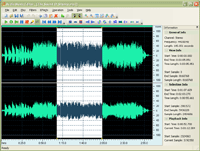 Audio Music Editor is an easy to use audio editor for professionals and music lovers. Many effects and filters are available.
Audio Music Editor can works as an audio player, an audio splitter, an audio joiner, an audio recorder or an audio format converter. It can mixes several audio files with different format to one audio file. Flexible play mode allows you play or loop play a part of the edited audio file.
Features:
Supports audio format: MP3, WMA, OGG, WAV, MP2, G721, G723, G726, VOX, GSM, U-LAW, A-LAW, DSP, ADPCM, CDA(input), APE(export only), FLAC(export only).
Available operations: play, play looped, seek, cut, copy, paste, delete, mix, record, trim, mark, amplify, normalize, invert, reverse, stretch, compressor, add noise.
Available effects: fade in, fade out, delay, flanger, vibrato, chorus, phaser...
Available filters: band pass, low pass, high pass, low shelf, high shelf, notch...
Join audio file with different audio formats.
Mix 2 or more audio files with different format to one audio file.
Supports recording to create new audio file.
Embeds a MP3 ID3 editor support MP3, WMA, MP2, MPEG, MP+, MPC, OGG and AVI audio formats.
Supports customizable output MP3 bitrate from 8 kbps to 320 kbps.
Supports customizable output MP3 sampling frequency from 8000 Hz to 44100 Hz.
Supports customizable audio format for WMA, MP2, OGG, VOX, GSM, G723, G726, G721, U-LAW, A-LAW, DSP, ADPCM including channel, sampling frequency and bitrate.
System Requirements:
Windows 2000/XP/Vista/7/8/10.
128M RAM or above.
50M disk space or above.

Try Now
The trial version allows you to evaluate Audio Music Editor in 15 days. You can save only 3 times in trial version.

Buy Now
Single User License (3 activation codes in lifetime, the activation code is hardware locked).

The upgrade is free for registered users.