Super Prize Picture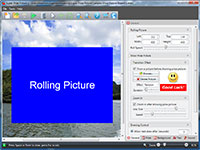 Retailers, supermarkets, stores, malls, trade shows, parties and games are a perfect place to use a prize picture. With the fun environment it brings to the event, it is a sure way to keep the atmosphere fun and exciting. You can add up to 100 prizes with different pictures to the project, all prize pictures roll very fast in the same area after running the prize picture project, a prize picture will stay for a time when press Space or Enter key.
---
Features:
There can be up to 100 prizes in a prize picture project, every prize can be set a picture.
Set prize quantity, limit prize quantity to a quota.
Print voucher using default printer, each prize can be set a voucher template.
Support roll sound and back music.
Support transition effects after a prize is drawn.
Support to enlarge prize picture after it is drawn.
Support to add back picture and back video to prize picture project.
View statistics and detail records.
Support to export statistics and detail records to Excel file, text file and html file.
Security password can be set to prevent unauthorized users from seeing prize setting, records.
Command-line tools are available, easy to integrate with third party software.

Download Trial
The trial version allows you to spun prize picture 50 times.
Download Trial
User Guide (PDF)
User Guide (online)
System Requirements:
Windows XP(SP3)/Vista/7/8/10/11.
1G RAM or above.
500M disk space or above.
User Guide:

Purchase
Per computer license, lifetime free upgrade.
Online activation is available, activation code will be sent to you automatically by email after payment is completed.

Buy Now