Flac2CD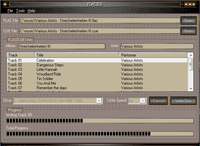 Flac2CD is a FLAC music CD image (FLAC + CUE) burner which can burn a music CD from an FLAC music CD image (FLAC + CUE) file.
FLAC music CD image (FLAC + CUE) is a compress digital music file which is compressed from a music CD, all the tracks are packaged to a single compressed image file. With Flac2CD, you can burn the FLAC music CD image (FLAC + CUE) file to a CD disc, and all tracks in the music CD can be seeked.
A CUE file is required to burn the FLAC file, the CUE file contains the information of every track in the FLAC file.
Features:
Easy to use, you only need to select a FLAC file and a CUE file.
Supports all current hardware interfaces (IDE/SCSI/USB/1394/SATA).
Supports use of high write speeds.
No drivers required. ASPI not required for NT/2000/XP.
Supports use of re-writeable CD formats.
Supports multilanguage including English, French, German, Spanish, Italian, Dutch, Portuguese, Simplified Chinese, Traditional Chinese.
11 skins are available.
System Requirements:
Windows 2000/XP/Vista/7/8/10.
128M RAM or above.
50M disk space or above.

Try Now
The trial version allows you to evaluate Flac2CD in 15 days. Only 3 FLAC + CUE files can be burned to CD in trial version.

Buy Now
Single User License (3 activation codes in lifetime, the activation code is hardware locked).

The upgrade is free for registered users.
See Also